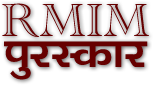 RMIM Puraskaar 2018
It's February and we are here with the results, giving you our thoughts and opinions on 2018's Hindi film music. Let's start with some trends, which may have been in the making for some time, but were more clearly noticeable this year.
Punjabi is the de facto second dialect of Hindi film music these days. Not merely dance tracks but songs from other genres are also being written in either Punjabi or a mix of Hindi and Punjabi.
There is increased variety and diversity in general too. Apart from Punjabi, you could find Marathi, Gujarati, Kashmiri, Rajasthani, Afghani, Bangla, English, Arabic and Indipop influences in our selected songs this year.
Remix and version songs are being used in films more commonly than ever.
Filming songs as a background track (as opposed to lip-synced) is slowly becoming the norm.
The trend of using multiple music composers and lyricists instead of a single team for a soundtrack seems to be back and is gaining momentum.
Songs are often released as singles, rather than as part of a complete album (on streaming audio and video services).
The last four points probably have some correlation if not a causation link.
New artists, especially singers, are coming up with continued regularity.
Here's a tag cloud for an easy scan of the moods of the songs this year: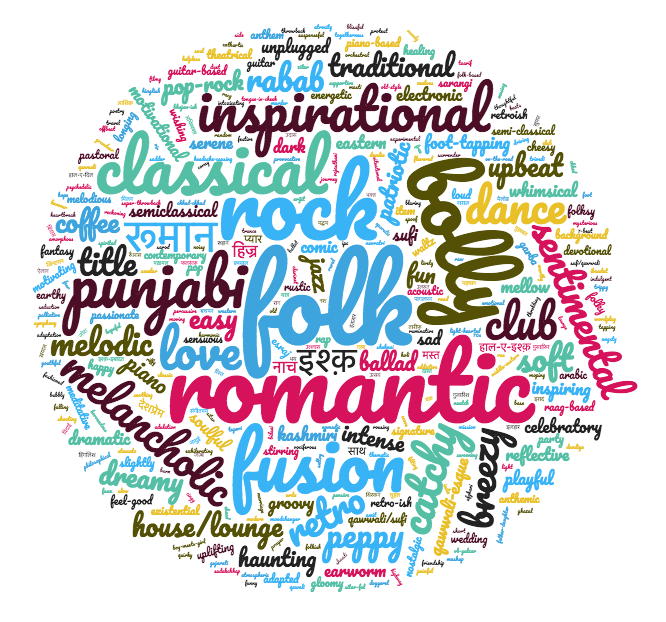 Numbers
Total Nominated Songs: 161 (179 last year)
Total Shortlisted Songs: 67 (69 last year)
Total Films in the Shortlist: 31 (38 last year)
Total Lyricists: 24+Faiz+Iqbal (30 last year)
Total Music Director teams: 24 (32 last year)
Lyrics
The overall quality of lyrics continues to be above par. Both, veterans and newcomers are using their pens and keyboards to write moving, smart, and cliche-free verse. Gulzar is our Lyricist of the Year. Songs by Varun Grover (again) and Hussain Haidry (for the first time) find place in the list of Best Written Songs. Irshad Kamil kept the bar high in Laila Majnu and Zero. Amitabh Bhattacharya didn't have anything spectacular but wrote quite a bit (and even in low-rated songs such as suraiyaa and Sweetheart showed the mastery of the craft). Jaideep Sahni returned to the lyrics scene. Shellee had one fine album in Manmarziyaan.
Music
One of the most conspicuous things was Preetam's absolute absence, after a very successful last year. But Amit Trivedi more than made up for that by doing almost double the work. And some of it was really good. He is our Music Composer of the Year. SEL returned with a couple of well-received albums - Raazi and Soorma. Ajay-Atul's work in Dhadak (partly borrowed from their own earlier Marathi film Sairaat) and the only nominated song from Zero was appreciated by the jury. Niladri Kumar was another favorite for his terrific-sounding Laila Majnu.
Singing
So Arijit is still everywhere and again our Male Singer of the Year. There is no escaping him for now, dear fellow jury members. Also, Sunidhi is back. She earns the Female Singer of the Year title one more time. There was a general feeling, however, that she was inconsistent and didn't sound her best self all the time. Ronkini Gupta impressed our jury again this year with her calming rendition of the unorthodox and marvelous bhajan tuu hii aham. Abhay Jodhpurakar's voice in his HFM debut song mere naam tuu touched hearts too.
The song that moved our jury the most, and is also our Song of the Year, was written decades ago for a different place in different times. The force and contemporariness of Faiz's words in his nazm bol ki lab aazaad hai.n tere are likely the biggest reasons of the song's impact on the jury, yet Sneha Khanwalkar's minimalist composition, and a heartfelt rendition by Rashid Khan and Vidhya Shah were also rated very highly by the members.
Manmarziyaan, a winsome collaboration from Amit Trivedi and Shellee, is not just the Album of the Year but also gets entry into our hall of excellence with RMIM Sammaan. Congratulations to all the artists.
Before you head on to see the Puraskaar results in हिंदी or English, let's give a round of applause to our awesome jury members. They had the hardest job and yet did it with aplomb and without any fuss. Thank you is not enough for them all. On that note, don't miss their comments on songs. And add your comments too.
Thanks to everyone who participated in the process. Enjoy the music.
Keep listening...
Vinay
---