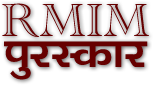 RMIM Puraskaar 2016
What an year. Already. But let's talk about 2016 - the year of Trump, Brexit, and of course our homespun Notebandi. Decades later, youngsters are going to look back and marvel about the almost sudden unveiling of these separate, unrelated events on the unsuspecting junta. I will leave it to you to respond to their questions like, "How did it happen," or, "What were you smoking"? On the other hand, they may cut you some slack and ask you, "What kind of music were you listening to through all this" instead. Well, we have exactly the answer to that.
So, let's see what 2016 brought to us musically. One interesting musical shift that is becoming somewhat noticeable now, even though it has been in the making for some time, is caused by the changing approach to song picturization. As more songs are filmed as a background aide to a scene instead of vocally performed by actors on screen, the compositions and arrangements of songs have started to be influenced. There was an increase of soft and mellow songs this year. It would be interesting to see how music compositions evolve as lip-syncing become more of an exception than norm.
The stand out album of the year was Mirzya. Gulzar and SEL together have consistently produced memorable songs, even though they are not as fondly thought of by connoisseurs as Gulzar-Vishal. Mirzya, another remarkable album from them, enters into our "Hall of Excellence" with its seven nominated songs.
Arijit Singh was everywhere. He continued to be the leading male background singer. Some of our jury members felt that he should expand his range and get out of his comfort zone to avoid sounding monotonous. But there is no denying his appeal and success. Punjabi was the other predominant theme. Folk and dance songs with Punjabi flavor seemed common and took a bigger than usual slice of the HFM space. Interestingly, trend-wise this is pretty much a repeat of 2014.
Amitabh Bhattacharya is our Lyricist of the Year, and not just because how prolific he is. His work in Dangal showed his range and unique choice of vocabulary, which makes his songs sound fresh. He could write a line like "jiivit huaa hai phir se cupid teraa" and make it work without sounding apologetic.
Amit Trivedi is still going strong and he is our Music Director of the Year, thanks to another offbeat success Udta Punjab and the Song of the Year from Fitoor. Pritam is not far behind. He had the universally liked and wholesome Dangal towards the end of the year.
Quite contrary to the male singing scene, the diversity among female singers is refreshingly high. Our Female Singer of the Year Nandini Srikar got there with merely a couple of songs. Her female duet with Zeb Bangash is our Song of the Year. There were several voices that the jury found impressive, including those of Kaushiki Chakraborty, Qurat-ul-Ain Balouch, Jonita Gandhi, and Amruta Fadnavis. Shreya, who has been dominating the scene for years now, appeared only in one song in our list, but nobody seemed to be complaining.
Let's look at some numbers now.
Total Nominated Songs: 184 (Last year: 158)
Shortlisted Songs: 68 (Last year: 76)
Films in the Shortlist: 32 (Last year: 29)
Lyricists in the Shortlist (solo or team): 30+Shiv Kumar Batalvi (Last year: 30+Wajid Ali Shah+Daag)
Music Directors in the Shortlist (solo or team): 24 (Last year: 29)
Trend Cloud
Here's a tag cloud to give you an idea of the trends and moods of the year.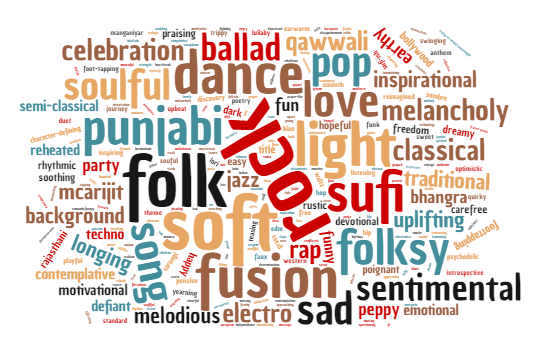 Lastly, thanks a million to our jury. They are the ones who make this exercise possible. Despite their busy schedules, and sometimes having to listen to songs that they wouldn't personally enjoy, they do it. They put up with my annoying reminders and get the job done in time. They deserve a big kudos. Also, note that if you disagree with any of the ratings, they are the ones who you should blame (not me).
They say tough times breed good art. Here's looking forward to some good music in 2017.
On to the awards then, in Hindi and in English.
Keep listening...
Vinay